Welcome to Freedomnomnom!

I've been wanting to start a cooking show for yonks, and, in keeping with my Carpe Diem life philosophy, decided, there's no time like the present! So this past Sunday, I set up the camera (the wrong way), forgot to put on makeup (the wrong thing), didn't have a clear plan (wrong again) and then just WENT. FOR. IT. And know what? It came out A-OK, all things considered, and, as always, a learning experience that allows for improvement.

On the menu 04/02/21: Medium-rare grass fed steak, cinnamon-ginger sweet potato slices, and a foraged fiddlehead and garlic mustard pesto with toasted pine- and walnuts.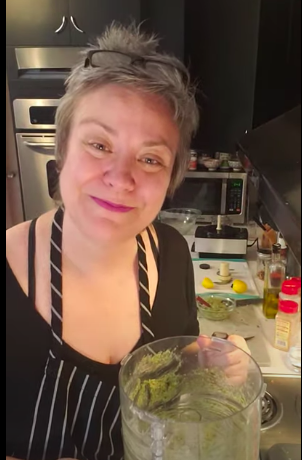 Ingredients
Fiddleheads (seasonally available in early Spring, must be processed as described in this video otherwise can be poisonous)
Garlic Mustard
Pine Nuts
Walnuts
Olive Oil
(I was out of parmesan, oh well, still tasted great, so you can or can't add depending on what's in your kitchen)
Instructions
Wash the locally foraged greens. Blanch and shock the fiddleheads. <---DO NOT SKIP THIS STEP! Whirl in the food processor with toasted walnuts and pine nuts, slowly drizzling in 1-2 teaspoons of olive oil. I added extra fried garlic. Season liberally with salt, black pepper and garlic powder. Squeeze some lemon on top. Stir and keep at room temperature until the rest of the meal comes together.