Whenever you see drama in the community, may I remind you:
1. Freedom is, in the immortal words of Ron Paul, "messy".
2. The enemies of liberty will always lie and call you names. Start growing a thick skin because it is the nature of the game in politics and public life.
3. This too shall pass. Whatever "this" is at any given moment…
In THIS CASE, it was the Concord Police Department, a decade ago, calling Free Staters "domestic terrorists" and a "daily threat" in a federal grant application for a BEARCAT (a po-po "tank").
We fought this, garnered 1,500 anti-tank petition signatures, testified at Concord City Hall for 6 hours, delayed the vote for a month, and then they–of course–voted to get it anyway.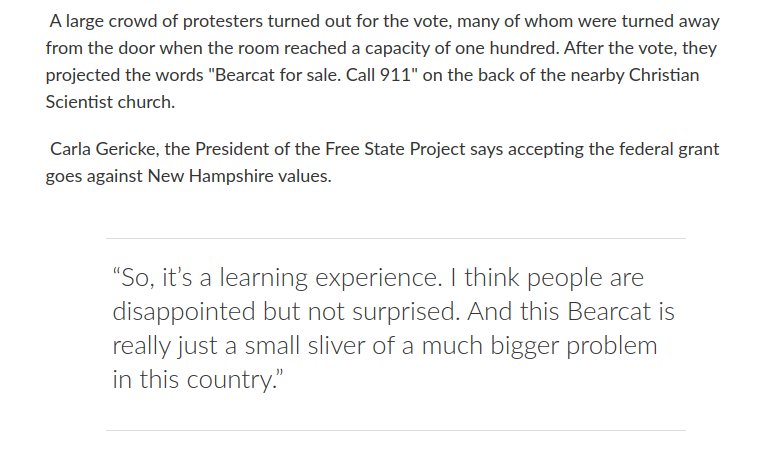 If you've ever seen the MORE MAYBERRY LESS FALLUJAH sign, it's from this incident.
We originally learned about the grant from the ACLU-NH, who were as outraged as we were. ACLU National had been working on a country-wide "police militarization" project when they uncovered the language… because of my personal relationships with people at ACLU-NH, it was passed on to me.
The BEARCAT story was covered in various MSM outlets, incl. Reason, VICE & Mother Jones.
The Concord police chief Duvall did sorta apologize, and, ahem, was forced into retirement as a result.
It was a PR battle we were winning, with a left/right coalition developing and working together, sympathetic coverage, townsfolk coming out with us to stand shoulder-to-shoulder against police militarization until that dumb-fuck Crying Nazi wrote a blog saying it was now probably a good time to start killing school teachers & postmen.
Yeah.
Sometimes you have to wonder.
This lead to the banning of Cantwell (truth in advertising: it's right there in his name), the first person to be made persona non grata by the FSP board.
Over the years, I have struggled whenever big, unpopular decisions like this need to be made, and sometimes I've regretted the outcomes, but not once with Chris Cantwell, who went on to tiki-torches at Charlottesville and federal prison after that. I believe he is now out and hope he steers tf clear of New Hampshire.
I would also caution people regarding the addictive nature of social media and "hits" from online audiences. Writers and thinkers sometimes escalate their messaging over time in a desperate attempt to try to garner ever-more attention. Like chasing any other addictive substance, this is a recipe for disaster, resulting in either finding yourself in some real bad company or with increasingly un-libertarian positions and un-libertarian "culture war" messaging.
As a free speech absolutist, it is a constant challenge to find the right balance: even if you are free to say what you want, no one has to listen to you or stay your friend. If you find yourself saying increasingly unpleasant things for attention… you might want to take a moment and reflect on whether you are starting to suffer from The Cantwell Effect. You can probably do better!
What's the point of sharing all this?
It's good to know our history, which we haven't always done the best job of capturing. I have a lot of stories in my head that I need to start getting down. And, while everything feels so intense IN THE MOMENT, this should serve as a reminder that whatever THE HUUUUGEST PROBLEM RIGHT NOW is, is often just one more fleeting piece of the great puzzle of Life.
Building a voluntary community based on consent isn't a picnic, but I wouldn't have it any other way. Live free and thrive!