Learn how to make a basic egg frittata that conforms to paleo/keto diets. This one is a ham, mushroom, and cherry tomato frittata, but the idea is once you master the basics, you can make a delicious, nutritious version whenever with whatever is in the fridge. Watch to find out what this week's secret ingredient is! Real food made with liberty and love!
#keto #freedomnomnom #paleo #AncestralLiving #LiveFreeAndThrive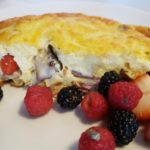 Ingredients
6 Eggs

Butter

Meat (today's was ham but could be bacon or whatever you have around)

Cheese (today's was cheddar but could be goat's or whatever you have around)

Vegetable (today's was mushroom but could be broccoli or... you get the picture! ;P)

Mustard (1 tbs)

Cream (dash)
Instructions
Preheat oven to 375F. Melt butter in your pan (Heat 3) and brown the ham, add the mushrooms, stirring occasionally. In a separate bowl, beat 6 eggs with fork, add seasoning (salt & pepper), a dash of cream, and a tbs of mustard. Pour the well beaten eggs over the mix, plop in the cherry tomatoes. When the top is a little more set (2-3 minutes), add a handful or two of grated cheddar on top. In the oven in the middle rack for 10-12 minutes until middle no longer jiggles. Remove and enjoy!