UPDATE 4/2: The contract with the Manchester Education Association was ratified last night without any public input. According to this Union Leader article, the contract includes salary increases of 1.5 percent in the first year and 3 percent pay hikes in years two and three, resulting in increases to teacher salary costs of $2,479,821 in school year 2021, and $2,217,380 in school year 2022. The total cost of the new contract to the district is pegged at $5,099,128 in school year 2021 and $2,812,977. Hopefully, in return, we will see a reduction in "excessive absenteeism." 
This chart is also informative for people who want to better understand why your property taxes WILL be going up in Manchester during this panic…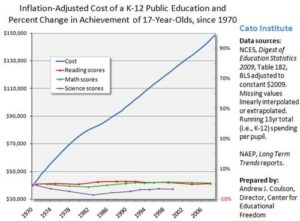 On Monday, I learned that the Manchester School Board will hold an emergency meeting tonight, Wednesday, April 1, 2020 to ratified the teachers' contract that has been outstanding for more than 2 years. Tonight. Amidst everything else that is going on. Amidst many of us being forced to not work or get paid ourselves.
This "emergency meeting" will not be open to public comment. Given how much strain taxpayers are under right now, approving a contract that gives teachers raises without any community input seems… pretty tone-deaf to me.
Since the City is apparently applying the logic of Big Bad Gov, you know, the "you have to pass the contract to know what's in the contract," upon learning of the secret weekend negotiations, I immediately filed a Right-to-Know request with Superintendent Goldhardt and Mayor Craig.
Today, I received a response from the Superintendent, including the contract below. Impressive! WTG for open and transparent government. But then…
I had also found a copy of the Tentative Agreement online, but when I went back to use that link for this blog post, I noticed it is no longer available. So much for transparency to the public at large! Boo!
In any event, looks like there's nothing we can do but sit back and take it. While you're sitting at home and taking it, you might want to ponder how long that's going to work for you!