I just got suspended on Twitter again. I hate those IC fuckers.
For what? I shared a video days ago (maybe a week+) of a lawyer testifying at a local hearing and giving an impassioned speech about informed consent.
In my OP, I talked about how I had been censored for the past 3 years for talking about the Nuremberg Code and the globally-accepted ethical norms for informed consent in medical experiments. I ended my post with "Fauci should hang. #Nuremberg2".
Since the censorship and shadow-banning by the Intelligence Community (IC) is coming to light, my account has been somewhat unshackled. How do I know? Over the weekend, I noticed I was the first person who appeared when you search the hash "#Nuremberg2".
I've also been fighting for pretty much the same 10 followers up and down for 3 years (my account didn't grow at all), then magically, after Elon took over, my engagement went up 100+% across all Twitter Metrics and I got hundreds of new followers.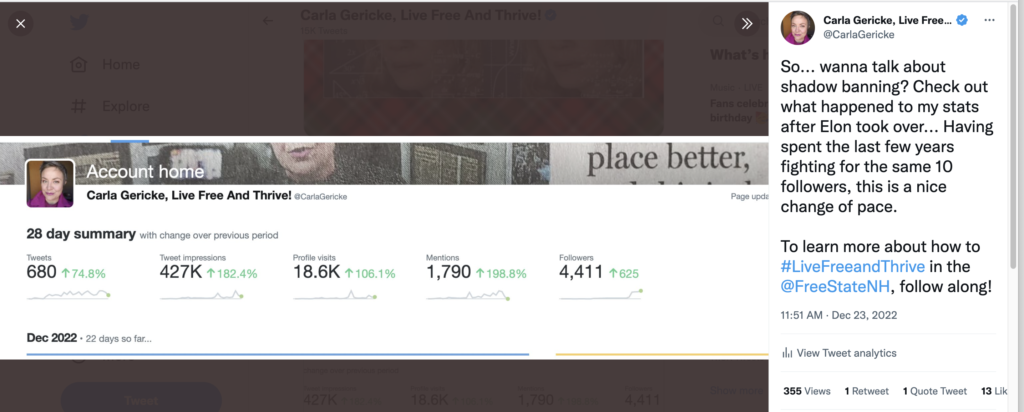 Phew! I wasn't actually going bananas with my irrelevant posts… the enemies of liberty were purposefully suppressing me!
This morning, when I logged in, I could Tweet for a while. I shared choice information on the history of Federal Reserve, and data linked to global Excess-Deaths post-vaccine rollout. Suddenly, I was locked out of my account.
For folks who haven't been censored yet, this is how it goes: You are given the opportunity to delete the "offending" Tweet. After that, I was informed that my account would be suspended with limited functions–I can't tweet or like anything, simply "lurk"–for 7 days.
I submitted the following appeal to Twitter soon after the suspension:
You do not tell people they will be suspended before you force them to delete the "offending" message. This means I was not making an informed decision, and was not given a proper opportunity to appeal.
My words, "Fauci should hang," is based on the historical Nuremberg Hearings where offenders were actually hanged, which is what I was referencing. There clearly is NO REAL OR IMPLIED THREAT beyond historical context.
There is no reason to suspend my account for 7 days. I removed the tweet, although I do stand by it.

Please reinstate the full functionality of my account.

While I have you, I'd also be interested in learning about my previous shadow-banning… I have had 100% more engagement and have gotten hundreds of new followers since the censorship has come to light. I'd love to see my "behind the scenes"/secret internal designations.

I am a lawyer and I write about the First Amendment and censorship, a public service on Twitter, our so-called "public square." Please treat this request favorably.

Thanks for your time,
Carla Gericke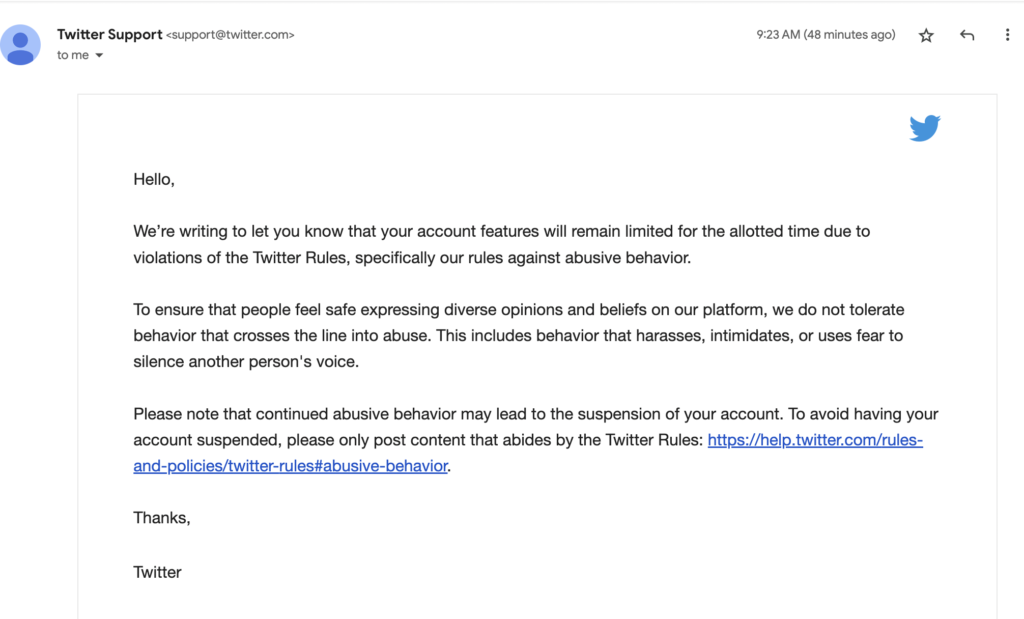 This is Twitter's policy on Abusive Behavior.
One has to ask… what's more abusive… saying Fauci should hang at a Nuremberg 2 hearing for Crimes Against Humanity… or… I don't know… unleashing a gain-of-function virus on the world and then adding fuel to the fire of the lockdowns, masks, school closures and economic harm, by forcing an experimental gene therapy with no safety records on the world? I know which one I think is worse…